If you need a break from the slow burn thrillers we've seen lately, check out What Have We Done by Alex Finlay. It's a pure adrenaline rush! Here's my Review of What Have We Done!
As an Amazon Associate, I earn from qualifying purchases. Please check out my storefronts on Amazon and on Bookshop! I also have pages about my affiliate content and my editorial, promotional and policies. Thanks for your support!
What Have We Done by Alex Finlay
Published on March 7, 2023 by Minotaur Books. Thanks to the publisher for providing a review copy.
Twenty five years ago, Jenna, Donnie, and Nico were the best of friends, having forged a bond through the abuse and neglect they endured as residents of Savior House, a group home for parentless teens. When the home was shut down―after the disappearance of several kids―the three were split up.
Though the trauma of their childhood has never left them, each went on to live accomplished―if troubled―lives. They haven't seen one another since they were teens but now are reunited for a single haunting reason: someone is trying to kill them.
To survive, the group will have to revisit the nightmares of their childhoods and confront their shared past―a past that holds the secret to why someone wants them dead.
It's a reunion none of them asked for . . . or wanted. But it may be the only way to save all their lives.
---
What Else Has Alex Finlay Written?
His first novel was Every Last Fear (2021)
Then he published The Night Shift (2022), which I reviewed!
---
Review of What Have We Done by Alex Finlay
I've now read all three books by Alex Finlay, and have a few observations.
He likes to write a past/present timeline, though he handled that in What Have We Done a bit differently.
He also likes a multi-POV narrative, which What Have We Done definitely has.
His books are plot-driven, though from his acknowledgments it's clear that he did research to make his characters in What Have We Done as three-dimensional as possible.
What Have We Done was a fast-paced thrill ride.
The book is about a set of foster kids who bonded over their traumatic time at Savior House. Now, in the present, someone is trying to kill them.
How did Finlay accomplish "fast-paced thrill ride" with a past-present timeline, you ask? Well, he set the entire book in the present.
Overall, I think this was a good choice.
Yes, we have to learn about these three main characters as they are frantically trying not to be murdered, but the backstory (their relationship and how they each got from Savior house to the present) is worked in bit by bit.
I thought the contrast between the characters was great.
Jenna is a married stepmom, but after Savior House had a mysterious job as some kind of an assassin.
Donnie made his mark as a musician, but is now sort of washed up. (Think Music & Lyrics or I Used to Be Famous. Both excellent movies, by the way.)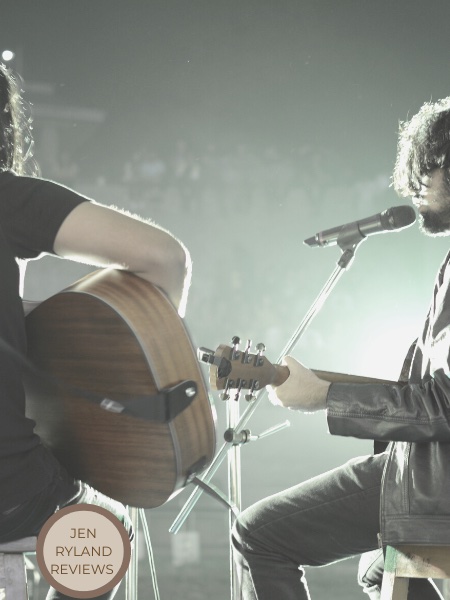 Nico is the executive producer for a successful reality TV show who has a bit of a gambling problem.
Now all three of them are being targeted by a killer and they will have to stay alive long enough to team up and find out who is after them … and why.
"Hmmmm.." you are saying. "Maybe this sounds a bit like Nine Lives."
Yes, it does. A little. Both are stories about a group of people targeted by a mysterious someone.
But I think What Have We Done is a much stronger version of a similar story.
What Have We Done also reminded me a little bit of The Guest List, but maybe just because of Nico, the reality TV star character and all his enemies.
---
If you need a break from all the slow burn books I've reviewed recently and are ready for a little adrenaline rush, give What Have We Done a try!
Have you read this? Let me know what you thought in comments!