Did you read All Good People Here and need to talk about that ending? Looking for a character list or a rundown of who the killer was (and wasn't?) Welcome to my Spoiler Discussion for All Good People Here!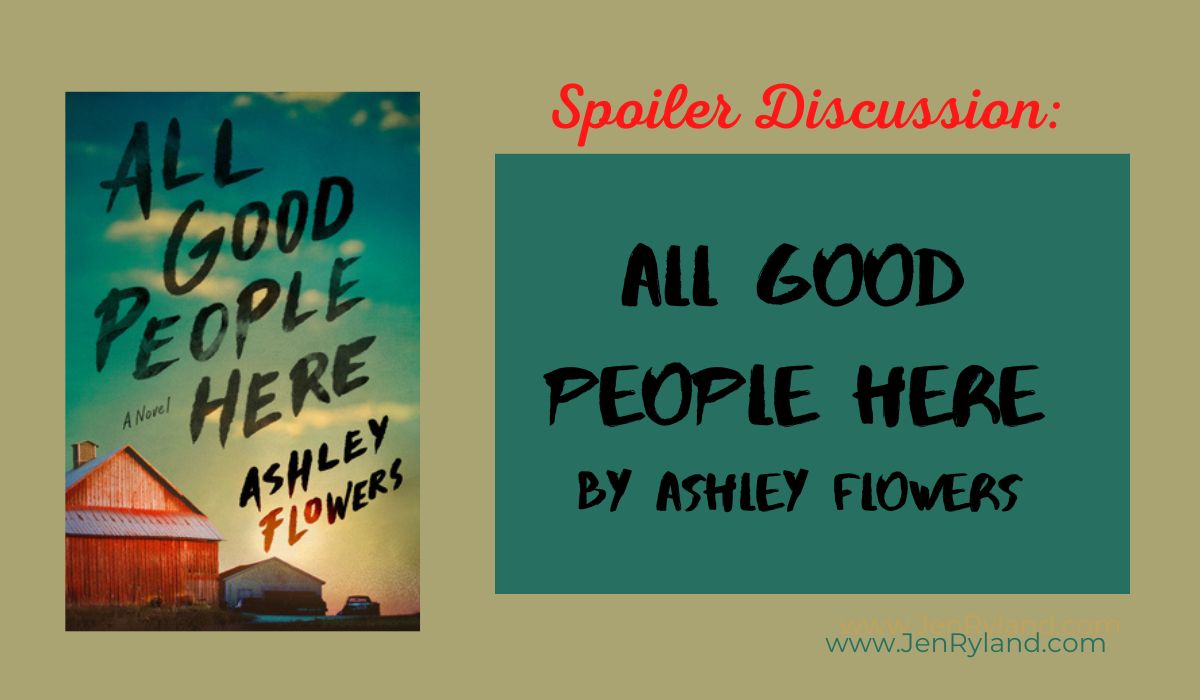 Spoiler Discussion for All Good People Here PLUS The ending explained!
First off, did I enjoy this book? YES!
If you want to read my book review, find out more about the entire plot of All Good People Here, or Crime Junkie (Ashley Flowers' podcast) check out my Spoiler-Free Review of All Good People!
But if you're a Crime Junkie (or mystery fan) who has read the book, you know that Ashley and Brit always have a LOT of questions. Especially Brit "Wait – what?" Prawat – thinking of you and hope you are recovering well.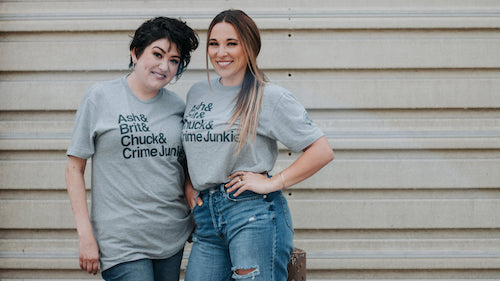 This Spoiler Discussion of All Good People is about going through the timeline, the suspects, and the book's conclusion. Hashing out the theories we had as we read, and poking holes in them. So let's do it!
WARNING – Spoilers Ahead for All Good People Here!
First, I have a list of victims and characters in All Good People Here.
The book has a timeline that spans twenty-five years, with major events happening in 1994, 2009 and 2019. Hope this helps you keep it all straight.
Then, I'll explore some of MY major questions about the book like:
Who did you suspect was the killer in All Good People Here?
Who were the killers In All Good People Here?
How did January Jacobs Die in All Good People Here?
Who killed Krissy Jacobs in All Good People Here?
Help! Is My Book Missing a Chapter at the End? What is happening?
What is the Ending of All Good People Here?
How is the January Jacobs Case Similar to Other True Crime Cases, like the JonBenét Ramsey case?
Character List for All Good People Here:
Margot Davies: a newspaper reporter in her early thirties. Was friends with January Jones, who disappeared in 1994 at age six.
Luke (Dave) Davies: Margot's uncle. He is his fifties, a widower suffering from early onset dementia. Biological father of January and Jase Jacobs.
Rebecca: Luke's wife, who died around 2018
Adam and Bethany (Margot's parents; not in the book but mentioned)
Adrienne: Margot's boss (mentioned)
---
Wakarusa, Indiana Police in the present:
Pete Finch: old friend of Margot's now a police officer
Detective Lacks: in charge of the Natalie Clark case
---
The Jacobs family:
Krissy Jacobs: mother of twins January and Jace; she was thought to have died by suicide in 2009
Billy Jacobs: married to Krissy; learned he was not the biological father of the twins from Dave/Luke on the night January died in 1994
January Jacobs: six year-old daughter of Krissy and Billy; participant in large state-wide dance competitions
Jace Jacobs: ran away from home after January's death; reconnected with his mother
Jodie Palmer: in a relationship with Krissy after January's death.
---
Indiana Locals:
Linda: works at Shorty's, the local bar
Eli Blum: DVD store employee and former friend of Jase
Elliott Wallace: Childless and was known to attend children's dance competitions. Jase thought he might have killed January.
Annabelle Wallace: Elliott's sister
---
Police from the January Jacobs case:
Robby O'Neil (local)
Barker (local)
Max Townsend (state)
Rhonda Lacks (state)
Patricia Jones (state)
---
Victims in All Good People Here:
Natalie Clark, abducted from a playground in the book's present (2019)
Polly Limon: disappeared from a shopping center parking lot in Ohio in 2016
January Jacobs, went missing from her home one night in 1994. Her body was discovered in a ditch less than two miles from the Jacobs home.
---
Who were your main suspects in All Good People Here?
When you think about it, there really weren't that many suspects in January's murder. Mostly just Krissy, Billy and Luke. My main suspect was Luke. The dementia seemed like a plot device to me.
As for the Natalie Clark case, it was clever of the book to suggest that the killer could be the same person, though I wondered why there would have been a twenty-year gaps in the killer's crimes (this was explained in the book).
I wondered about Pete (sorry, Pete!) as it's a typical plotline in thrillers to have the main character's old friend she'd flirting with be a killer, but Pete was just a child when January died and seemed to have no motive.
Who were the killers in All Good People Here?
A man named Elliot Wallace killed Polly and Natalie, along with a number of other young girls. He was finally caught by a tip sent to the police by Margot.
Elliott's sister Annabelle told Margot that Elliott had a storage unit that she was paying for. Margot and Jodie broke into the storage unit and found trophies Elliott was keeping from Natalie, Polly, and ten other girls. There was a box for January, but strangely, it only had a few of her dance recital programs, and no personal items.
That's because…
Billy killed January. Longer explanation below, but he'd accidentally injured her, thinking she was Krissy. When she started yelling "Daddy, why did you hurt me," he killed her to keep her quiet.
Jase found January's body. Krissy found Jace standing over his sister's body and thought he killed January, so she staged the scene and moved the body.
Billy also killed Krissy after she realized he was responsible for January's death.
Billy then intends to kill Margot when he realizes she knows he killed January.
What really happened to January Jacobs in All Good People Here?
Her father Billy came home in a rage late one night after finding out from his longtime friend, Dave (the high school nickname of Margot's Uncle Luke), that Dave/Luke was actually the father of the twins.
Billy heard a person he thought was his wife Krissy coming up the basement stairs and, furious with her, swung the door to the basement into her, sending her flying down the stairs.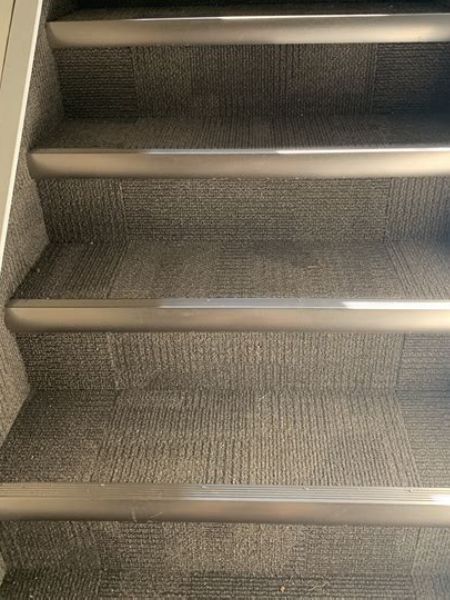 But the person Billy hit wasn't Krissy, it was January. Thankfully, January was alive, but she accused her father of hurting her and started to cry. Panicked, he slammed her head against the cement floor and, when he realized she was dead, put her baby blanket in her hand and then snuck back into his own bed.
Jace then woke up and found his sister's body at the bottom of the stairs. He went down to check on her and touched her, getting blood on his pajamas.
Next, Krissy woke up and found Jace standing over January's body. She thought that Jace had killed January because he was jealous of all the attention she got. To protect Jace, Krissy staged the scene. She used a hammer to smash the basement window from outside and spray paint threats on the wall and make it look like an intruder took January.
In 2009, Jace, who has left home, starts corresponding with his mom as part of a recovery program. Krissy apologizes to Jace for covering up his murder of January, and he writes back and says "uhhh, I didn't do it."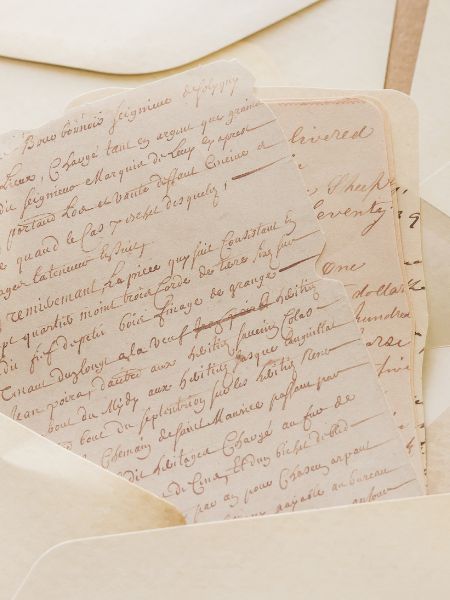 Krissy then decides to tell Dave that he is the twins' father. After that meeting, she writes Jase a letter saying, "I learned something about your father. He isn't who you think he is."
That very day, Krissy ends up dead, presumed by suicide.
Who killed Krissy Davies in All Good People Here?
The police think Krissy died by suicide based on the note she left (which was actually part of a letter to Jase.)
Jodie thinks Dave/Luke did it, because Krissy died right after telling him he was the father of the twins.
Billy admits to Margot that he killed Krissy after he THINKS she has figured out he's the one who killed January.
To me, this was a little confusing. Billy found out he wasn't the twins' father back in 1994, from Dave/Luke. That was the conversation that led to January's death. But it seems like Krissy didn't know that.
Why didn't Dave/Luke ever tell Krissy that he knew he was the twins' father?
I understand him not saying anything in all the chaos of January's death, but fifteen years later, when Krissy decides to come clean, he already knows.
WHAT did Krissy mean in her letter to Jace when she said "I learned something about your father. He isn't who you think he is." Does "your father" mean Billy, the only father Jace ever knew? Or does it mean Dave/Luke, Jace's biological father?
DID Krissy figure out that Billy killed January?
I think yes. I think what happened is that in 2009, Krissy told Dave the truth, he said yeah, "I already know. And back in 1994, on the night of January's murder, I told Billy that I was the twins' father and he was MAD." Leading Krissy to realize that Billy must have killed January.
Who wrote "She Will Not Be the Last" on the Jacobs barn and who was writing the notes to Margot?
Krissy's secret lover Jodie wrote all the warning notes and messages. In 2009, after Krissy confided in Jodie that she had been the one to stage January's death as a murder, Krissy says she's going to tell Dave the truth.
Jodie warns her not to tell Dave. Krissy's "suicide" occurs that very day, so Jodie thinks that Dave/Luke must have killed Krissy after she told him that he was the twins' father. But this was actually not the case! Billy was the one who killed Krissy because she realized he was the one who killed January.
Why does Jodie keep quiet about this? Maybe to keep her relationship with Krissy a secret.
And does Jodie think Dave is responsible for all the murders? (January, Krissy, and the other girls?)
What was the deal with Dave/Luke?
Dave/Luke knew (since 1994) that he was the father of Krissy's twins, knowledge made even more painful by the fact that he and his wife Rebecca were unable to have biological children. He attended January's dance recitals to watch her from afar.
On the night of January's murder, Dave told Billy that he was the twins' father, sending Billy into the rage that would lead to January's death.
But after what happened to January, WHY did Dave/Luke never say anything about this to Krissy or the police or anyone? WHY? Due to his dementia, we will never know. Maybe he told his brother Adam (Margot's father) leading to his alcoholism. (Just a joke. Sort of.)
Read the comments, as Cat has an interesting theory about this!
The Ending of All Good People Here, Explained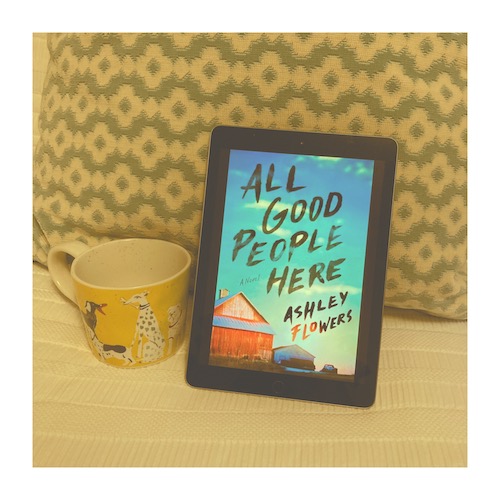 After discovering the evidence in Elliott Wallace's storage unit, Margot goes to tell Billy that she's solved January's case.
While in Billy's house, Margot sees a photo of January holding her baby blanket, the one Jace said she was clutching when he found her at the bottom the stairs.
Margot thinks that there is no way January could have been holding onto the blanket during all the events that led to her death. She is certain someone had to have planted the blanket BEFORE Jace found January (and before Krissy staged the scene.) If Jace is telling the truth, that person had to be Billy.
Billy realizes that Margot suspects him and tells her it was an accident. That Krissy also realized he did it and he had to kill her too.
Billy drags poor Margot down the basement stairs and … that's it. Margot resolves to get away, but we don't know what happens next.
---
Spoiler Discussion for All Good People Here
Here are my major questions about All Good People Here:
Did the explanation for January's death make sense?
What was the deal with the whole Dave/Luke situation?
What was with that ending!
Could January's case have been inspired by the JonBenét Ramsey case?
Did you think the explanation for January's death make sense?
While I really appreciated all the twists in the January case and the number of suspects (Dave/Luke, Jace, Krissy, Billy, Elliott) I didn't find the resolution 100% plausible. By a weird coincidence, I was listening to a podcast on the Casey Anthony case right before I read this, and something stuck with me.
Long story short, Casey's lawyer's explanation for Caylee's death was that it was an accidental drowning that had been staged as a kidnapping/murder so Casey wouldn't be blamed.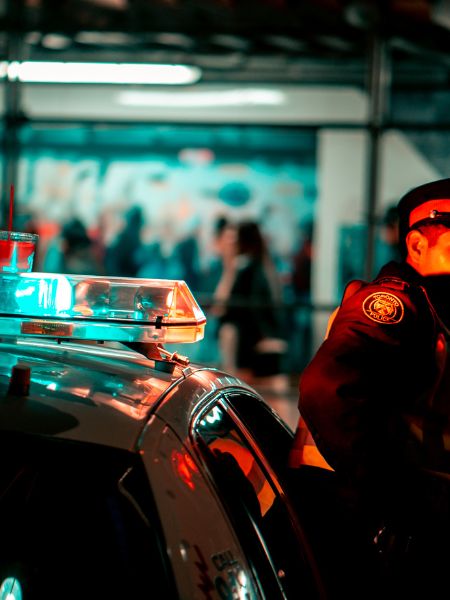 According to a podcast I just listened to, the medical examiner in the Anthony case testified that 100% of the time, parents who find their kids accidentally injured call 911.
I am never a fan of a plot with an elaborate cover-up for an accident, something that happens in many books. Tragic accidents happen and unless it's something like a DUI, people rarely get thrown in prison for them.
Furthermore, January get knocked down the stairs by the door, and did not know why she fell or who was responsible. When her father came to check on her, why did she immediately start yelling that he hurt her? Why would her first thought be that her father meant to hurt her, rather than came to help her? that was a bit strange to me.
Thanks to Cat for her theory on this! Check the comments!
---
What is the deal with Dave (or is it Luke)…
Having known a family friend who suffered from early onset dementia, I was completely empathetic to Dave/Luke and his heartbreaking situation. Not only the dementia, but the fact that he learned he had biological children he wanted and can't acknowledge. That's rough.
And yet, I have to evaluate the dementia as the plot device that it is. Amnesia and memory loss in books is not my favorite trope. Luke reminded me a little of a character in The Survivors.
I understand the plot-related reasons to keep Luke's mind muddled. 1) He can't tell Margot that he was actually January and Jace's father OR that he told Billy this on the day January died. 2) He can't tell anyone what he and Krissy discussed the day she died. 3) He can remain a suspect in Krissy's murder.
But here's the thing. After dropping his little 2009 truth bomb on Billy, and then learning that January was dead, Dave/Luke must have wondered if the two things were connected!
Coincidences are always side-eyed in the true crime community.
Why didn't Dave/Luke say anything to Krissy or the police back in 1994 or in all the years since?
Dave/Luke had another opportunity to be like "hey, wtf" when Krissy died in 2009 on the very day Dave/Luke and Krissy spoke about the twins' parentage. AGAIN Dave/Luke didn't say anything to the police. Dave/Luke, what is up with that? According to Margot, his dementia is recent, so he can't blame that.
Dave/Luke, we know that Billy HATED you and I suspect he wasn't your favorite person either. Why did you protect him? What is going on?
Is Billy believable as the killer in All Good People Here?
Above, I argued that there was no logical reason for Billy to kill his daughter. Is he just a psychopath who cold-bloodedly kills two (or three) people over something that clearly could have been interpreted as an accident? I think January's fall down the stairs would have been seen as a tragic accident, due to sleepwalking or slippery stairs. (Shades of The Staircase!)
But back to Billy. Anytime Billy thinks someone MIGHT knows his secret, he murders them? I don't believe there was any way for Margot to prove her baby blanket theory. And Billy has someone to blame for January's death: Elliot Wallace.
He made January's death look like an accident and Krissy's like a suicide. What do you think is his plan to keep Margot quiet?
Is the January Jacobs murder inspired by any true crime cases?
Similarities between January's murder and the JonBenét Ramsey case
I have read more than a few reviews of the book that make the point that All Good People Here might be inspired by this very well-known case.
I am not super familiar with the JonBenét Ramsey case, but there seem to be some superficial similarities:
Each of the girls had a brother.
Both girls got lots of attention for participating in beauty pageants/dance recitals wearing makeup.
January and JBR were initially thought to have been abducted from their homes during the night.
Each case included written threats. In the JBR case, a rambling ransom letter was found. January's kitchen was painted with threatening graffiti.
Both January's and JBR's parents gave somewhat awkward media interviews that made the public suspect they were not being forthcoming about everything they knew.
---
But there are differences as well:
January and Jace are six year-old twins. JBR was also six but her brother was nine.
The Jacobs are working class, while the Ramseys were extremely wealthy.
---
What I thought was interesting was that the family member vs outside intruder debate in the (still unsolved) JBR case were similar to plot elements in the book.
All Good People Here has plot elements similar to a completely spectulative and unproven theory about the JBR case, that one or both of JBR's parents staged the scene to cover up the fact that someone in the family was involved in what happened to JonBenét.
There is a bedwetting theory that blames JBR's parents.
There is also a theory about a heated sibling dispute possibly involving a flashlight and some pineapple.
Again, these are SPECULATIVE, UNSUBSTANTIATED theories about the case and no family member was ever charged.
The other theory blames an outside intruder.
So far, no theory has been definitively proven. This spring, some media outlets raised the possibility of doing enhanced DNA testing in the hopes of finally solving the case, but I haven't seen any results of that or know if it ever happened.
Similarities between January's murder and the April Tinsley case
Thanks to Kat (in comments) for pointing out another possible True Crime inspiration: April Tinsley.
This case took place in the late 80s in the Midwest, and I was not familiar with it, but is a truly horrible and heartbreaking story.
Eight year-old April was out playing with a friend and decided to home and get her umbrella. Then she vanished.
April's body was found a few days later. The case went cold. Then, two years later in 1990, someone wrote a creepy message on the side of a barn confessing to April's murder.
Yes, this aspect feels very similar to January's case. This same person continued to write disturbing, threatening notes to young girls for almost fifteen years, until he was caught using forensic genealogy.
Can you think of other true crime cases that Ashley references in the book? Tell me in comments!
---
Is the staged crime scene plausible? I say yes!
If you are familiar with the most debated true crime cases, a staged crime scene by a parent to cover up the death a child isn't that out-there.
As mentioned above, Casey Anthony's lawyer suggested that her father staged a fake crime after her daughter's accidental drowning.
But Marcia Clark thinks otherwise!
Darlie Routier insists she was wrongly convicted of her children's murders and denies the theory that she staged a fake crime scene (and gravely injured herself) to cover up her alleged involvement.
---
But then, as discussed above, All Good People Here puts a pretty different spin on things.
In the book, January's father Billy, in a fit of rage over discovering that he's not the biological father of January or her brother, means to harm his wife, but injures his daughter instead.
Then kills his daughter to keep her quiet.
Then his wife stages a crime scene to protect her son. Layer on layer of deceit!
Then the wife figures out what the husband did and he kills her. I really did appreciate the twists in this book!
Let's Discuss the Ending of All Good People Here
What. Is. This. Ending? The point of true crime podcasts is to SOLVE mysteries, not leave them open-ended.
I object, Ashley Flowers! Please explain!
Is poor Margot dead? We have to assume that Margot finds a way to get away.
Reasons Why Margot is NOT a Crime Junkie
People who listen to true crime podcasts know that in a small town it's easy to think that there are "All Good People Here."
Never assume you're safe in a small town. Fewer CCTV cameras, fewer cell towers, lots of secrets. In books at least. (Crime Junkie Rule #4: You Never Really Know Anyone.)
Always tell someone where you're going, especially if you're going to meet up with ANYONE who could be a suspect in a murder case. Like the father of one victim and the husband of another. Margot!
If you don't want to tell someone, KEEP NOTES and make sure there is at least one trusted person who knows your computer and phone passwords. Margot was a reporter, so hopefully she did that. (This is Crime Junkie Rule #2: Make an "If I Go Missing" File.)
I don't know about you, but I am counting on that badass Jodie Palmer to swoop in and save Margot.
---
I hope you will join the Spoiler Discussion for All Good People Here! Talk to me in comments! What did you think of the book, the ending, all of it? Do you listen to podcasts? Let's discuss this! You can also read my review of All Good People Here!
And if you are new my site and enjoyed this post PLEASE check out all my Spoiler Discussions here!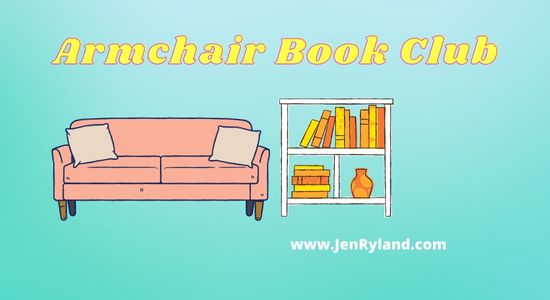 You can also subscribe to my monthly Mystery and Thriller Newsletter! Every month I run down new thrillers coming out and