If you read the Reese's Book Club pick The Sanatorium, let's discuss the sequel: The Retreat by Sarah Pearse. Is Elin any more tolerable? Does the ending make sense? Join my Spoiler Discussion for the Retreat!
Spoiler Discussion for The Retreat
This post contains:
Character List for the Retreat
History of Carey Island
Full Plot Summary of the Retreat
The Ending of The Retreat Explained
Who was the Killer in the Retreat?
Spoiler Discussion for the Retreat
The Retreat is book two in the Detective Elin Warner series. If you need a complete recap of book one, see my Spoiler Discussion for the Sanatorium.
---
Characters in The Retreat:
People in Elin's world:
Elin Warner: Detective Sergeant and former member of MCIT (Major Crime Investigation Team)
Will: Elin's partner, an architect (formerly known as Ollie)
Isaac: Elin's brother (mentioned in the book but not in it)
Farrah: Will's sister, a Lumen employee
Anna: Elin's boss
Steed: Detective Constable in Elin's office who helps her with the case
Anna: Detective Chief Inspector and Elin's boss (mentioned in both books by Elin but never appears in person)
Hayler: The presumed perpetrator in a double murder. This case haunts Elin as she wasn't able to make the charges against him stick. (mentioned in both books but never appears in person)
The Legers and their friends and family:
Jo Leger: travel influencer
Hana Leger: Jo's sister
Bea Leger: Jo and Hana's sister; doesn't show up for the trip to Lumen.
Seth Delaney: Jo's boyfriend
Caleb: Bea's boyfriend, who is actually Christopher Jackson, son of Porter Jackson
Maya: Bea and Hana's cousin
Rob: guest who goes missing.
Sofia: Maya's sister, who died in a house fire that injured all the cousins.
Liam: Hana's boyfriend (died in a trail biking accident)
Lumen Employees:
Ronan Delaney: island owner, father of Seth
Edd: Lumen employee
Farrah Riley: Lumen employee and Will's sister
Michael Zimmerman: cleaner at Lumen
Tom: water sports instructor at Lumen who brought Bea to the island
Jared: a supervisor at Lumen
Larson Creacher: former island caretaker who murdered a bunch of teens in 2003
Porter Jackson: a former student at Rock House School, he was also the island boatman during the Creacher years and opposed the Lumen development
Ollie/Will: on the island during the Creacher incident
Thea: murdered by Creacher
Lois Wade: girl who went missing before the Creacher deaths.
---
History of Cary Island, off the South Devon Coast:
First Carey Island was the site of the Rock House School, which used harsh punishment techniques on its students. After that, it was used as an Outward Bound location, where in 2003 a group of kids (including Will and Farrah) were terrorized by Larson Creacher. Finally, a luxury eco resort was developed on the island. There was some controversy over this; some people lobbied to turn it into an SSSI (Site of Special Scientific Interest). SSSi is a UK thing: preserving land for habitat protection and ecological interests. I think the closest equivalent in the US would be conservation land
---
Plot Summary for The Retreat
Prologue:
A boy named Ollie runs and hides as his friend Thea is attacked. He later goes back and finds a "reapers rock" near Thea's body.
In the Present:
Social media influencer Jo is headed to Lumen, a luxury retreat on Cary Island off the South Devon coast (see the map below). The island has a rocky outcrop known as Reapers Rock.
DS Elin Warner is running, trying to forget that her brother Isaac said that their father had contacted him.
She sees her colleague Steed (I don't think we ever learn his first name. Or Anna's last name.) and follows him to a body of a teenager who has been slashed.
Elin is upset. Anna, her boss, calls and Elin asks whether Hayler (from The Sanatorium) could be responsible for the crime. Her boss says no, the case was a suicide.
Elin returns home and she and her boyfriend Will discuss the shocking news she received in The Sanatorium: that her brother Isaac was not there when their brother Sam died as a child. When Sam fell in the water and hit his head, Elin was the only one there and apparently did nothing to help.
Elin tells Will that her father is planning a visit. Trying to lighten the mood, Will mentions that a project he designed has been nominated for an award: a hotel called Lumen. Note: the mood will NOT be lightened.
---
On Carey Island, Hana and her influencer sister Jo arrive for a vacation at Lumen.
Will tells Elin that his sister Farrah, who coincidentally (?) works at Lumen, has not been herself lately. Elin and Farrah aren't really friends, but Elin agrees to message her.
At dinner, Jo and her group discuss the curse of the Lumen location.
The next morning, Michael, a cleaner at Lumen, sees clothing lying on the grass and then a body on the rocks below. Yep, that curse has played out already. The first rule of the curse is don't mention the curse!
Elin is at work. After being taken off the MCIT (major crimes investigation team) after her mini-breakdown, she's been moved to a burglary case. Just then, she gets a call to investigate the body at Lumen, as she's the closest officer. She brings Steed with her.
Elin, Steed and the CSI team arrive at Cary Island by boat. Farrah meets them and says that she already sent the emergency medics to the body. Farrah doesn't know who the victim is but says she suspects the person must have fallen from the yoga pavilion to the rocks below.
The CSI team thinks the time of death was early in the morning. Steed is rattled and tells Elin he had a family member die in a similar way.
Hana wakes up alone and remembers that Jo and Seth had a drunken argument the night before.
Elin interviews Michael. He saw someone walking on the rocks with a flashlight the week before. He tells Elin there is something evil on the island.
Maya, Hana and Seth discuss going to breakfast. They are not sure where Jo is.
Elin looks at the CCTV footage of the yoga pavilion. She watches the woman's wrap fly over the balustrade and the woman try to reach it and fall.
Hana sees the crowd at the yoga pavilion and is alarmed to sees her sister Bea's very distinctive wrap in a plastic bag.
Jo shows up after a run and Hana tells her that Bea is dead.
No one understands why Bea was on Carey Island when she was supposed to be on a business trip to the US. Bea called Caleb and said she was on her trip. She texted him the night before she died.
Tom, a water sports instructor, said that he knew Bea from university and that she'd messaged saying she wanted to surprise her family.
He brought her to the island and they had a couple of drinks. He said after that she told him she got an upsetting text and said she had to call someone.
The Leger group discusses why Bea came to the island. Maya says that she heard someone sneak out of their villa.
Elin examines Bea's suitcase. She finds a planner with some website addresses scrawled in it.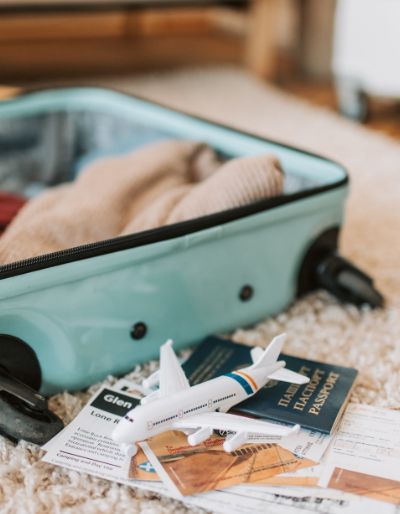 Elin goes to the scene to talk to Rachel, the CSI, and Steed. They have not found Bea's phone.
Hana comes to tell Elin that Maya heard someone leave the villa. She also says that Maya had a friend whose father worked at the school on Carey Island.
Elin calls Will to tell him where she is. He mentions that someone posted a creepy photo of her on Twitter, something that also happened during the Hayler case. Elin invites him to come to Cary Island.
Will's sister Farrah tells Elin that an ex has been hassling her. She has something else important to tell Elin but says she will do it later.
Steed says Zimmerman's background check was fine and he's now looking into the Leger family.
At dinner Will and Farrah say that people should stop being obsessed with the island's past while Elin says you can't erase it.
Steed texts that Seth has a criminal record.
Caleb tells Hana that his dad died a year ago. He also tells her the Bea wasn't a fan of Seth.
After dark, Elin sees someone on the rocks with a flashlight. Then Farrah shows up and Elin sees her meet someone at the yoga pavilion.
The next day, an guest named Rob is missing. Elin goes to search his villa (located on an isolated islet connected to the main island by a bridge) and finds Rob's belonging strewn around and his laptop missing.
Farrah learns that some diving equipment is also missing and an equipment bag was seen floating in the water.
Elin and Tom go out in a boat to investigate and find another body. But it's not Rob – apparently he is just messy and was out snorkeling with his phone switched off.
Hana and Jo discuss whether they were jealous of Bea. Jo denies fighting with Bea.
The body is Seth. Tom tells Elin that Seth's father owns the island.
Elin and Steed find some old documents in a shack on the cliff.
Elin goes to try to retrieve the diving bag and feels like someone is trying to drag her under to under the water. Steed and Tom get the bag, which is full of drugs.
They lock Seth's body in the shack and go to talk to Jo. She searches Seth's things and finds a lot of cash and a climbing carabiner.
Jo says that Seth had been getting threatening emails. She wondered if Maya was behind them.
Elin finds a climbing bolt on the rocks where Bea fell. She searches the rocks and finds a hiding place with a climbing harness stuffed inside.
Someone is above Elin on the rocks and rolls a boulder at her, but she makes a narrow escape. It's the hot tub from the Sanatorium all over again!
Maya accuses Jo of lying. Jo says she knows Maya was spreading rumors about Seth. Hana is convinced that Jo is hiding something and asks her about the "I'm sorry" note that fell out of her bag when they arrived.
The lab finds powder around Bea's mouth and Elin remembers that she also noticed it around Seth's. The lab thinks it's limestone from a quarry.
Will and Elin argue about her staying to pursue the case. He decides to leave the island.
Maya tells Hana that she'd asked Bea to write Caleb a letter after he reneged on her job offer.
Elin and Steed hike to the island quarry. At the bottom they find a cave that is covered in powdery dust.
They also find photos of the teenagers who were victims of Larson Creacher.
Elin thinks there were four victims, but there are five photos. Also photos of Bea and Seth.
Caleb tells Hana that he thinks Jo was the one who left their villa the night that Bea died.
Elin and Steed discuss whether Bea and Seth could be connected to the Creacher case. Maybe the motive wasn't drugs.
Elin tells Steed that Creacher is in prison but that some people thought he was innocent. They also find a Grim Reaper cloak. Elin freaks out and runs out of the cave.
Outside the cave, Elin says she will call the detective who worked the Creacher case. She also wonders if the cases are connected, why the perpetrator started up again after so many years. Steed wonders if it's a copycat.
Hana goes to talk to Jo, who is not in her room. Hana reads Jo's text messages and finds a message from Bea to Jo saying that Jo has to tell Hana something.
Elin tells Steed that MCIT is "fully committed" and no one can come and help them. She wants to lock down Lumen. Seriously? It's the blizzard at Le Sommet all over again!
Will sends Elin another weird tweet someone posted of her at the beach with a friend.
Elin goes to talk to Farrah about locking down and Farrah is talking to Ronan Delaney, Seth's father and the owner of the island.
Hana finds Bea's phone in Jo's room. She goes to talk to Maya, who drops a drawing of Jo with Hana's ex, Liam. She says that Bea knew that Jo and Liam were involved.
Elin talks to Johnson, the investigator on the Creacher case. He tells her about another girl, Lois Wade, who went missing from an Outward Bound trip before the Creacher incident. He says an eyewitness saw Creacher near the teens' tents on the night: Farrah Riley.
Steed and Elin want to talk to Farrah. But they find her radio smashed and a torn up photo of a group of teens in her trash. Her screensaver says "I know what you did. I know that you lied."
Elin has to tell Will that Farrah is missing. But Will knew that Farrah testified against Creacher and didn't tell Elin. And both of them wanted to work on the creepy island? Very odd.
Will is upset that Elin says that Farrah might have lied in her testimony. But then he agrees that she DID lie, to protect Will. What??
Hana tells Jo that she knows about her and Liam. Then Jo starts rambling about how she was with Liam when he died. Jo knew Bea was on the island and she left the villa to meet her. She says she found Bea's phone broken near the yoga pavilion.
Will says he was also on the island the at the time of the murders. His friend Thea was attacked and he ran away. He found a stone next to the bodies and Farrah made him get rid of it. She blamed Creacher so Will wouldn't get blamed.
Michael Zimmerman has spotted Farrah's bag on the rocks. Elin goes to meet him and something about him seems familiar. In Farrah's bag she finds a note that says Rock House School and Michael Zimmerman.
Elin shows the note to Michael who says Farrah asked him about the school. They discuss an artist that has a work hanging in the reception area and also attended the Rock House school.
The artist told Michael that the school had a punishment room and Elin wonders if that is where Farrah might be. Michael thinks that the room might be an old bunker in the woods. Michael and Farrah checked it out but it was completely blocked off by construction equipment.
A storm is coming and they head back but see a figure on the sand. It's Jo, and she's dead of a blow to the head.
Yes, THREE MURDERS AND Elin STILL can't get backup help. Is the UK really that crime-ridden that a serial killer can't get a team assigned? Elin meets with Caleb, Hana, and Maya. Hana admits to arguing with her about Liam and the missing phone.
Maya says her father's friend worked briefly at the Rock House School.
The Ending of The Retreat Explained
Elin and Steed go over the statements on the Lois Wade disappearance and on the Creacher case. The boatman who brought the kids to the island was named Porter Jackson. He also attended the Rock House School AND opposed the Lumen development. Finally, we are getting somewhere.
Elin and Steed discuss whether the killer might be using the murders to echo their experience in the punishment room. They find out that Porter Jackson was also on the island when Lois went missing.
Michael takes Steed and Elin to the bunker. They can't get in, but Michael mentions that Ronan Delaney also went to Rock House school.
They ask Ronan about Porter Jackson and Ronan says he thinks Porter died recently. He also mentions that he encouraged Porter to make an investment that went wrong.
Ronan also tells them that when anyone misbehaved at the school, a figure in a black cloak would come and take them to the punishment room.
Steed tells Elin that someone has been using the beach shack. Will calls for an update on Farrah and is angry that Elin didn't follow up on the threatening notes she was getting. He suggests that Farrah cares about him because she lied for him, but Elin only cares about her job. Okay, Will, take a seat. You didn't tell Elin anything about your and your sister's connection to the creepy island.
Steed shows Elin another tweet of her, with a photo taken on the island.
Elin speaks to the assembled Lumen guests but can't give them information and leaves them angry and worried.
Later that night, Ronan comes and tells Elin and Steed that he thinks Porter Jackson had a son who stuttered. Elin decides that Porter's son must be Caleb, who is now missing.
They search Caleb's backpack and find nothing. Maya says she saw Caleb putting something in Hana's suitcase. They find a passport under the name Christopher Jackson and a phone with Bea's memory card inside. Bea had messaged Caleb asking about the name on his passport.
Elin suggests that maybe Porter's bad investment prevented him from putting forth a SSSI (Site of Special Scientific Interest) development plan for the island.
Tom comes to tell them he saw a man running across the bridge to the islet (where the isolated villa is). Elin heads out there.
Hana says she's all alone now and Maya comforts her. Obviously Maya killed either Bea or Jo or both and it has something to do with the fire.
Elin finds Farrah in the villa, tied up and clinging to life.
Farrah says that Caleb hit her. She got a message that a detective wanted to see her, but it was Caleb and he kidnapped her. She says Caleb/Chris was the camp leader when she and Will were on the island but she didn't recognize him. Really?????
Elin leaves Farrah and goes to get help. But this doesn't go well, because she gets hit in the head and wakes up to find herself blindfolded, tied up, and being dragged. She frees her hands but Caleb starts hitting her. Strangely, he leaves her and she goes back to Farrah. Then she realizes Caleb has cut the bridge leading to the main island.
Elin swims over to the island and hears a gunshot. The guests have barricaded themselves in the lodge and she can't get inside. Haha finally someone has some sense!
Elin finally gets in and Steed tells her that Caleb took Ronan Delaney. She wants to go after them but he tells her she has to wait for the team. What team? Is back-up finally coming?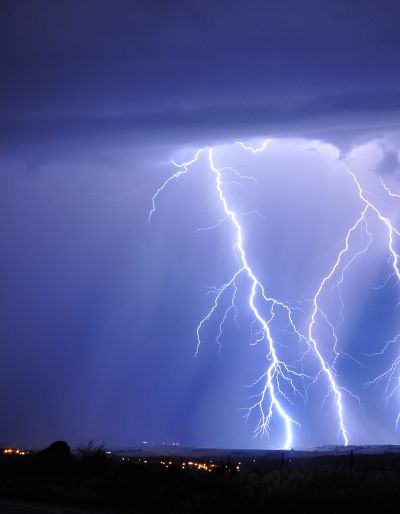 She goes out into the storm. Caleb is taking Ronan to Reaper's Rock.
Elin follows and tries to reason with Caleb. She tells him he must be seeking revenge against Ronan for causing Caleb's father to lose the money he was going to use to turn the island into an SSSI.
Who was the killer in The Retreat?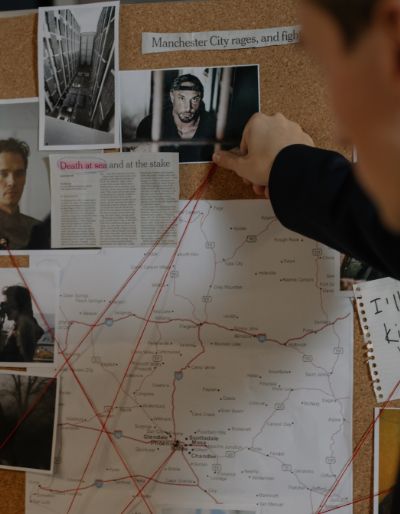 Caleb agrees that his father was a murderer, but he was trying to change until Ronan encouraged him to make the bad investment. Ugh, I can't with these explanations.
Caleb denies killing Jo. Of course, because it was Maya! I knew it.
Caleb shoots Ronan in the leg and then Elin in her arm. She throws herself at him and pins him down.
Epilogue: Larson Creacher got released as Porter Jackson was responsible. Elin is off to another isolated place with Isaac. Chris/Caleb admits to killing Bea and Seth but insists he didn't kill Jo. Elin gets another tweet of herself in a hospital bed. Maya was the one who killed Jo, because she was the one who set the fire that hurt her sister Sofia.
Yes, there were THREE killers in the Retreat:
1. Porter (who killed the teenagers in 2003), not Larson Creacher.
2. Caleb aka Chris who killed Bea (who was onto his fake identity) and Seth (as revenge against Ronan Delaney for encouraging his father to make the bad investment and preventing him for applying for SSSI status for Carey Island.)
3. Maya who used all the mayhem to kill Jo as revenge for Jo setting the fire that disabled her sister.
Spoiler Discussion for the Retreat
Is it me, or do you feel like your head might explode? There was just SO much going on here and, to me, a lot of it didn't make sense.
First, we have the continuing Elin family plot still dragging along in the background. What happened to her brother Sam? Was she responsible? Or is everyone gaslighting her? And do we care?
Then, we have Elin still obsessing over Hayler. Was he the one following her in The Sanatorium? Is he the one posting the creepy Twitter photos? I'm beginning to think the culprit behind all that might be Will, and that Will never told Elin that he and Farrah had a third sibling who was a victim of Haller. (I know that's nonsensical but so is ALL of this.) Will was at Le Sommet and on the island. Hayler wasn't (that we know) on the island to take the Twitter photo of Elin. Though maybe he was hiding in the bunker. My issue with the Hayler subplot is that I have never met Hayler and I am losing interest in him.
In the present case, we have a WHOLE mess of stuff. I like an intricate plot but to me this one was just messy.
We have the island, with the creepy reaper school AND the Outward Bound murders, which got confusing to me. Porter Jackson and Ronan Delaney were part of the school, while Farrah, Will and Caleb/Chris were part of the Outward Bound.
We have the toxic Leger family. So much time was spent discussing this mysterious fire that I suspected Maya was up to something.
Then we have Will and his sister, who 1) don't bother to mention to Elin that they were part of the whole Outward Bound murder thing and that Farrah testified and lied for Will. This is CRAZY. I was feeling sorry for Elin at this point – she needs to ditch these two.
Steed seems nice, but what's with his mysterious info drop about a family member who died from a fall? Plus WHY would Farrah and Will want to be part of the re-brand of creepy Carey Island? And Farrah's explanation for not recognizing Caleb/Chris was not believable.
Someone is STILL trying to murder Elin, or at least she thinks so. Did Caleb/Chris push the boulder at her? I think the book is suggesting it was someone else. My money is still on Will.
BUT maybe I'm missing a possibility. Think about it: we have never met any of Elin's colleagues, except Steed. Elin never gets ANY backup, even after a triple murder???? Is this a Shutter Island situation? Maybe after realizing she murdering her brother, Elin had a complete psychotic breakdown and thinks she's a detective investigating murders and there's no Hayler and no murders at all. I'm not even joking!
---
One Nice Touch About the Retreat
The author, Sarah Pearse, lives in South Devon. After a bit of research, I learned that Agatha Christie's country house, Greenway, is in Devon and that there is an annual Agatha Christie festival. This year the festival is September 10-17 so if you are anywhere near Devon, please go and report back.
In addition, one of Christie's most famous books, And Then There Were None, takes place on an (imaginary) island, Soldier's Island, off the Devon coast. Is The Retreat a nod to that book? Let me know what you think! I definitely see some Christie influences, like a character who is not who they seem to be, and a character who sneakily hides their crime amidst some other chaos.
---
What's your take on The Retreat? Early Goodreads readers do not seem impressed. Please leave a comment!
I know a LOT of you hated Elin (I didn't). Did you like her more in this book?