Have you read Malibu Rising by Taylor Jenkins Reid? Want to talk about the book and the ending? Need a plot summary or more information about crossover characters from other Taylor Jenkins Reid books? Curious if the book will be made into a movie? You are in the right place! Malibu Rising: Spoiler Discussion and Movie News!
Malibu Rising: Spoiler Discussion and Movie News!
This post will contain:
Malibu Rising: Character List
Malibu Rising: Full Plot Summary
Malibu Rising: The Ending
Malibu Rising: What We Know About the Movie
---
Malibu Rising: Character List
Sorry, this list is long but because I'm looking for crossover characters I wanted to be thorough. If you notice any crossovers or Easter eggs I missed, please let me know in comments!
Rivas, Friends and Family
Nina Riva (25): surfer and t-shirt model
Jay Riva (24) : surfer
Hud Riva (23): photographer. Sleeping with his brother Jay's ex.
Kit Riva (20): college student
Casey Greens: possible half-sibling to the Rivas.
Carol Hudson: Hud's biological mother
Ashley: Jay's ex girlfriend and seeing Hud secretly
Brandon Randall: Nina's husband a professional tennis player
Carrie Soto: tennis pro and Brandon's mistress
Seth Whittles: Jay's friend
Ramon: fry cook at Riva's
Chad: server at the Sandcastle
Lara: bartender at the Sandcastle
Vanessa de la Cruz: Kit's best friend, in love with Hud
Characters from the Mick and June Years
Mick Riva: famous singer, father of the Riva kids (plus possibly Casey)
June Costas Riva: Mick's wife and the Riva kids' mother
Theo and Christina Costas: June's parents
Carlo and Anna Riva: Mick's parents
Frankie Delmonte: Runner records executive who gives Mick a deal
Characters That Appear in Other Taylor Jenkins Reid books
Let me know in comments if I missed anyone!
Mick Riva: one of Evelyn Hugo's husbands
Evelyn Hugo: famous actress, though not mentioned by name in the book, just as " the biggest star in Hollywood."
Warren Rhodes: (member of Daisy Jones and the Six). Attended the 1979 party and got naked in the pool.
Lisa Crowne: (singer) also attended in 1979 and got naked in the pool.
Don Adler: (one of Evelyn Hugo's husbands) Comes to Mick's show
Brandon Randall: professional tennis player and Nina's husband
Carrie Soto: tennis player, main character in Carrie Soto is Back
Past Party Guests – fictional
Alma Amador and Georgina Corbyn supermodels
Louie Davis: director
Alexandra Covington, Ted Travis, Vaughn Donovan: actors
Doug Tucker: studio head; mentions gay rumor about Celia St. James at the party
Violet North: musician
Women Mick Cheats With
Diana, Betsy, Daniella, Ruby, Joy, Veronica Lowe
Wives of Mick
June (1) Veronica (2) Evelyn (3) Margaux (4) Angie (6)
Past Party guests – real people
Rob Lowe
Emilio Estevez
1983 Fictional Party Guests
Tuesday Hendricks: actor, left Bridger at the altar
Rafael Lopez: actor
Bridger Miller: Tuesday's former fiance
Ashley: Jay's ex and Hud's secret hookup
Chris Travertine: Nina's agent
Ricky Esposito: Hud's photography friend
Vanessa de la Cruz: Kit's friend
Lara and Chad from the Sandcastle
Seth Whittles
Eliza Nakamura: script reader
Bobby Housman: screenwriter
Caroline: cocktail waitress, sleeps with Bobby
Tarine Montefiore: Nina's friend
Greg Robinson: film producer sleeping with Tarine. Knows Mick.
Kyle Manheim:
Wendy Palmer: aspiring actress who works at Riva's seafood. Has a threesome at the party with Stephen Cross and Nick Mantell (New Wave bandmates)
Matt Palakiko: retired surfer
Vaughan Donovan
Ted Travis
Victoria Brooks
1983 Party Guests- Real People
Jennifer Beals
---
Malibu Rising: Full Plot Summary
Present: 1983
Nina wakes up the morning of her her famous annual Malibu beach party. She has split from her husband, Brandon, who is now living in Beverly Hills with his mistress, tennis pro Carrie Soto.
Jay and Kit Riva discuss Nina's party and go surfing.
Hud started secretly sleeping with Jay's ex-girlfriend Ashley before she and Jay broke up and they are still seeing each other.
Ashley tells Hud she doesn't think they should debut their relationship at Nina's party. Hud disagrees.
Nina goes surfing.
1956
Mick Riva (23) and June Costas (17) meet in Malibu. Her family owns a clam shack, Pacific Fish, off the PCH. He's an ambitious aspiring singer.
Mick proposes and June's parents agree. They tell him he has a few years to work on his music career, and then he needs to take over the restaurant. He tells June he'll make it big before then.
Mick starts getting singing gigs around L.A. and Las Vegas. June gets pregnant and Nina is born in 1958.
Present: 1983
Nina stops by Riva's Seafood, once Pacific Fish.
Jay goes to the Sandcastle looking for Lara, the bartender. She's the only one he's confided in about his heart condition. The doctors advised him to stop surfing. He invites Lara to the party.
Jay and Kit pick up Hud.
1959
Jay is born, but Mick is on tour and can't get back for the birth. A few months later, a woman named Carol Hudson drops a baby off on June's doorstep. She says he's Mick's and she can't keep him. June is furious but decides to accept the situation, both Mick's cheating and the baby.
Mick has a lot of flings but takes up with an actress named Veronica Lowe. He comes home and tells June he's leaving her. She begins drinking heavily.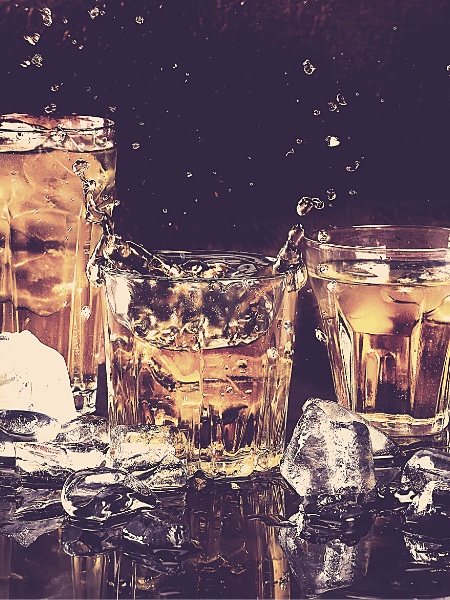 Present: 1983
Jay, Kit, and Hud show up at Riva's for lunch. They discuss the party and who might come. They decide to go surfing before the party.
1961-1962
Mick and June are divorced and Mick has married Veronica. The marriage only lasts four months. Mick then has a quickie Las Vegas wedding to "the biggest star in Hollywood" (Evelyn Hugo) but the marriage last only four days.
Mick begs June to take him back and they get remarried. Kat is born within the year. A year later, he runs off with a backup singer named Cherry.
1969– 1971
Mick gave June their beach cottage in the divorce but never pays alimony or child support. June's father has died but she helps her mother run the restaurant. The kids learn to surf.
June is drinking again. Nina, who's only fourteen, starts driving her siblings around to keep her mom off the road.
June's mother Christina dies of a stroke. June decides to re-name the restaurant and try to make it more successful. Kit, who is only nine, calls her mom a drunk.
1975
The kids are all out. June turns on the TV and sees that Mick got married again to a French model, Margaux Caron. June drinks too much and tragically drowns in the bathtub.
Nina, who is seventeen, has no family to turn to. Mick doesn't show up for the funeral. Nina is waiting until she turns eighteen and can file for guardianship of her siblings. She drops out of high school to run the restaurant.
1983
Kit is hoping Seth, the boy she has a crush on, will be at the party. The set-up begins.
1978
Nina is still struggling to keep the family together. Hud goes to college. Nina gets scouted by a magazine editor. A photo of her surfing makes a huge amount of money and finally she can fix the house and restaurant up. This is the first year they throw the party.
1983
Hud asks Jay if he'd mind him dating Ashley. Jay is angry. Brandon shows up at the house and asks Nina to take him back.
1981
Brandon, a professional tennis player, is doing a photo shoot for Sports Illustrated. He's in Santa Monica and spots Nina and Kit. The photographer tells Brandon they are Mick Riva's daughters. He asks for her number. At the age of 25, Brandon has already won numerous tennis tournaments.
Nina tries to teach him to surf. He's nice, and she's unsure of him, but she could use a shoulder to lean on. They get married in 1982.
Brandon picks out a huge Malibu house. Nina finds it too large and industrial, but wants to make him happy.
A year later, he walks out. He's just won Wimbledon and comes home to tell her that he's met someone else. Nina wonders if family history just keep repeating itself.
The Party: Saturday August 27, 1983
Brandon pleads with Nina to take him back. In front of the party guests, he apologizes for messing up and says that he loves Nina.
Other guests show up, including Ashley. Nina instantly realizes that Hud is sleeping with her.
Lara and Chad show up from the Sandcastle. Kit's friend Vanessa is crushing on Hud but sees him with Ashley. Kit has eyes for Ricky, Hud's photography friend.
The narration goes omniscient.
Ashley tells Hud she's pregnant. Bobby, a screenwriter, comes with a brick of cocaine. Suddenly, trays with lines of coke are everywhere.
Nina's close friend Tarine Montefiore shows up with her much older lover, Greg Robinson, who offers to DJ. Tarine asks Nina why Brandon is there and tells Nina she has not lived a single day for herself.
Vanessa connects with Seth. Ricky does magic tricks for Kit.
A girl named Casey wants to talk to Nina. She thinks Mick is her father. Casey was adopted, and her adopted parents died in a car accident. She found out that her birth mother was Monica Ridgemore, who said her father was Mick Riva.
Mick decides to go to the party. Kit invites him every year.
Jay and Lara flirt and leave the party to have sex in Hud's truck. When he's looking for a condom, he finds the pictures that Hud took of Ashley.
Some Brandon and Carrie Backstory
Brandon recalls what led him to cheat with Carrie. He'd been beat at The Australian open by a seventeen year old in an upset. He'd had more losses, and a shoulder injury. Carrie Soto had given him inspiration. When he was cheating with Carrie, he won.
But life with Carrie was regimented and centered around tennis. Carrie was tough and unsympathetic. He realized that he couldn't play forever.
Carrie Soto shows up at the party, threatening to light Brandon's clothes on fire on Nina's lawn. She is furious because she told Brandon not to leave Nina unless he meant it. Carrie apologizes to Nina.
Nina kicks them both out. Carrie says she doesn't want Brandon.
---
Jay sleeps with Lara and tells her about Hud and Ashley. Jay tells Lara he loves her but Lara just wanted a hookup.
While kissing Ricky, Kit realizes she likes girls, not guys. Jay finds Hud and Ashley. Hud tells Jay that he and Ashley love each other. Jay takes a swing at him.
Malibu Rising: The Ending
Mick shows up at the party. Nina is shocked.
Mick tells the kids he wants to be part of their lives. Kit asks him where he was when their mother died. Nina tells him he has never really been their father.
Brandon Randall takes off in Mick's car to go win back Carrie.
Nina believes Mick is sorry for what he did to their family, but the kids tell Mick it's too late. Casey hopes he can tell her if he's her father, but Mick's not sure.
At 4:00 am, the party is getting out of control. Tarine calls the police. A bunch of people get arrested.
At 5:00 am, Nina, Jay, Hud, Kit, Casey leave the beach. The siblings convince Nina to go to Portugal and try to live the life she wants.
Mick can't find his car (taken by Brandon) so he decides to hitch a ride on the PCH. He throws his cigarette butt in the bushes, starting the 1983 Malibu fire.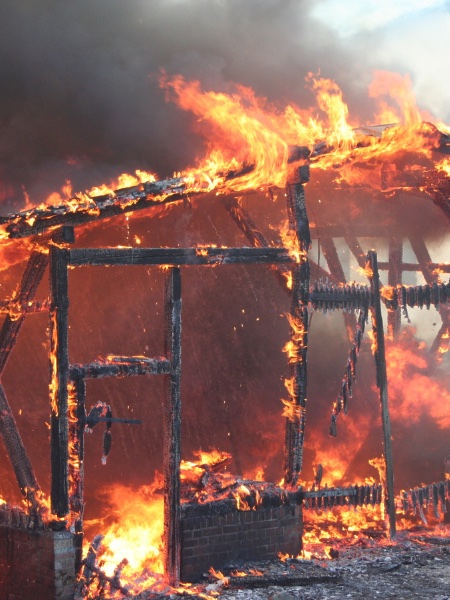 Hud proposes to Ashley. Nina heads to the airport to fly to Portugal. Nina's house burns down.
---
Malibu Rising: Movie News
According to Hollywood Reporter, Liz Tigelaar (the Little Fires Everywhere executive producer) is heading up a Hulu adaptation of the show. Tigelaar is also adapting The Seven Husbands of Evelyn Hugo for Netflix.
Amy Talkington, who wrote and also was a producer on Little Fires Everywhere, will executive produce (along with Taylor Jenkins Reid) and write the Malibu Rising adaptation.
There is a lot that needs to happen before the show goes into production, but stay tuned. I'll also update this post with a section on how the show differs from the book!
Malibu Rising: Spoiler Discussion
What did you think of Malibu Rising? It had a vibe, as all Taylor Jenkins Reid books do, and I enjoyed the 1980s retro feel and all the sand, sun, and surf references.
Nina Riva was a very different main character than Evelyn Hugo or Daisy Jones or Carrie Soto. She was more a person who sacrificed everything for her family (more of a Camila?)
I'm not a fan of Mick Riva (I agree with Javier Soto!) so I didn't love that so much of the book focused on him.
But I did like that this book sort of tied the other three together. If you want to see my master timeline, come check out The Fictional World of Taylor Jenkins Reid!
You can also check out my Spoiler Discussion for the other books in this fictional world:
Spoiler Discussion for The Seven Husbands of Evelyn Hugo
Spoiler Discussion for Daisy Jones and The Six – plus movie news!
Spoiler Discussion for Carrie Soto is Back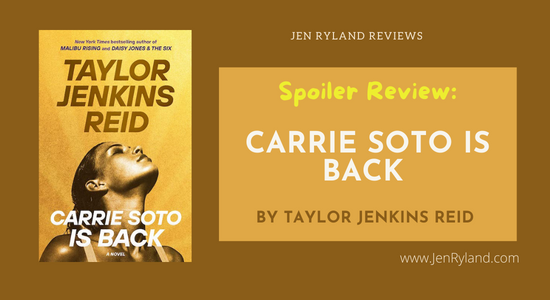 If you love my posts, please subscribe to my weekly updates!