Have you read The Seven Husbands of Evelyn Hugo by Taylor Jenkins Reid and want a list of characters, a plot summary, or spoilers for the ending? Wondering if the book will be made into a movie? I am here to reveal all! Welcome to The Seven Husbands of Evelyn Hugo: Spoilers and Movie News
The Seven Husbands of Evelyn Hugo: Spoilers and Movie News
Here's what this post will contain:
Character List for The Seven Husbands of Evelyn Hugo
List of Evelyn Hugo's Seven Husbands
Plot Summary with Spoilers for The Seven Husbands of Evelyn Hugo
Ending of The Seven Husbands of Evelyn Hugo
Movie news for The Seven Husbands of Evelyn Hugo
Spoiler Discussion for The Seven Husbands of Evelyn Hugo
Coming soon: How is the movie of The Seven Husbands of Evelyn Hugo different from the book?
---
The Seven Husbands of Evelyn Hugo: Character List
Evelyn Hugo: iconic movie star of the 1950s
Monique Grant: thirty-something writer at Vivant magazine
Frankie: Monique's editor at Vivant
James Grant: Monique's father, who worked in Hollywood.
Angela Grant: Monique's mom
Grace: Evelyn's assistant
Ari Sullivan: studio executive
Brick Thomas: was in a fauxmance with Evelyn
Ruby Reilly: Evelyn's friend/frenemy
Ed Baker: Evelyn's older co-star
Celia St. James: rival actress with whom Evelyn falls in love
The Seven Husbands of Evelyn Hugo: who were they?
1. Ernie Diaz: ditched
2. Don Adler: abuser
3. Mick Riva: annulled
4. Rex North: business arrangement
5. Harry Cameron: father of daughter Connor
6. Max Girard: director of the X rated movie
7. Robert Jamison: arrangement with Celia
---
The Seven Husbands of Evelyn Hugo: Plot Summary with Spoilers
Present: New York City
Journalist Monique Grant is stunned when Hollywood legend Evelyn Hugo specifically requests that Monique write a profile of her.
Evelyn is now in her late 1970s and preparing for a big auction of her gowns.
Monique has recently split with her husband, who left for a job in California. She heads to Fifth Avenue for her first meeting with Evelyn, who tells her she doesn't want to discuss her gown auction.
Evelyn wants Monique to write her life story. They will meet for as long as it takes to write it. When Evelyn is dead, Monique can sell it.
The question that Monique wants answered: after seven weddings, who was the love of Evelyn's life?
The 1950s: Evelyn's Husband #1
Husband #1 Ernie Diaz (February 14, 1953)
Evelyn's mother died when she was eleven. She developed early, and men were hitting on her. Evelyn wanted to get out of New York. In 1953, at age fifteen, she married neighborhood boy Ernie Diaz and went with him to Hollywood.
Evelyn started hanging out at a café near a Hollywood Studio. Producer Harry Cameron came in and signed her to Sunset Studios.
There's a part Evelyn wants, so she sleeps with a 48 year old producer. She bleaches her hair and changes her name to Hugo to hide her Cuban roots. She also divorces Ernie Diaz.
The 1950s: Evelyn's Husband #2
Husband #2: Don Adler (March 1957)
Evelyn stars in her first movie. The studio sets her up with actor Brick Thomas but she has a huge crush on Don Adler. Don proposes at a movie premiere.
1957: Newlyweds Don and Evelyn shoot a movie in Mexico. He has anger issues and slaps her after she tells him she doesn't want kids right away.
Evelyn gets the part she's been dreaming of: Jo in Little Women. Her friend Ruby Reilly is cast as Meg and up-and-coming actress Celia St. James as Beth.
Harry realizes that Don is physically abusing Evelyn and wants to help.
Evelyn and Celia bond and decide to help each other. The tabloids portray Evelyn as coldly ambitious and not motherly, so she decides to fake a miscarriage.
Evelyn and Celia double date with Don and his friend Robert. Ruby tells Evelyn that Don is cheating on her and that Celia is a lesbian.
Present: New York City
In the present, Evelyn tells Monique that she is bisexual and that her great love was Celia St James.
Monique tells Frankie that Evelyn doesn't want an article in Vivant, she wants Monique to write a book. She makes an offer: she will give Vivant an exclusive peek at the book if she is made an editor.
Late 1950s-1960s
1959: Evelyn talks to Harry about leaving Don. She kisses Celia. Harry tells her Don is divorcing her and the studio is dropping her.
Evelyn decides to go to Paris.
1961: the tabloids are saying that Mick Riva is divorced from Veronica Lowe and interested in Evelyn. Harry signs Evelyn to play Anna Karenina. Ruby marries Don Adler.
Celia, Harry, and Evelyn go to see Mick Riva's Las Vegas show. But rumors are spreading about Celia and Evelyn. Celia doesn't care, but Evelyn knows what it's like to be blacklisted.
Husband #3 Mick Riva (December 1961; annulled)
Evelyn decides to get Mick to marry her. They end up annulling the marriage.
Then Evelyn finds out she's pregnant, and she and Celia have a bitter argument. Evelyn insists they can't go public with their relationship. Celia accuses Evelyn of letting men sleep with her for fame. Evelyn gets Harry to take her to Mexico for an abortion.
Husband #4: Rex North (November 26, 1962)
1962: Evelyn proposes marriage as a business arrangement to her Anna Karenina co-star, Rex North. Celia gets engaged to a football player.
Harry tells Evelyn that Paramount wants to sign her and Rex to a three film deal. Rex tells Evelyn that their marriage arrangement has to end because he's in love with Joy and she is pregnant. Evelyn suggests that, to get out of their marriage, they plant stories that she is cheating on Rex with Harry and he's cheating on her with Joy.
Harry tells Evelyn that he's actually seeing Celia's husband, John Braverman. Harry and Evelyn decide to get married as friends.
Both Evelyn and Celia end up nominated for Oscars, but they still aren't speaking. When Ruby wins they make up and then hook up in a bathroom stall.
Husband #5: Harry Cameron (August 14, 1967)
Evelyn marries Harry. She, Celia, Evelyn and John all live together in New York, with John sleeping with Harry and Evelyn with Celia.
The 1970s
1974: Evelyn and Harry decide to have a baby together. Evelyn gets offered a great part but opposite Don Adler.
In May 1975 Connor Margot Cameron is born.
Evelyn agrees to do a graphic sex scene for the movie with Don. She tells Celia, who says she hates the thought of Evelyn sleeping with Don, or Mick, Or Harry.
Celia begs Evelyn not to do the scene, but it's too late. Heartbroken, Celia leaves John and Evelyn and leaves New York to move back to L.A.
The Present: New York City
In the present, Monique asks Evelyn if being bisexual was what ruined her relationship with Celia. Evelyn says that she only slept with men for her career, and that Celia was the one she loved. She doesn't feel she cheated on Celia, who was the only woman she ever loved or slept with.
John dies of a heart attack.
The 1980s
In 1980, Evelyn finally wins a Best Actress Oscar. Max proposes to her.
Present:
Monique's husband David shows up asking her to take him back.
Evelyn discusses with Harry whether she should marry Max. He wants her to find happiness so he doesn't oppose it.
Max tells Evelyn he knows Harry is gay. He loves Connor and likes Harry. Evelyn agrees to marry him.
Husband #6 Max Girard (June 11, 1982)
1982: Evelyn and Max get married. But Evelyn quickly realizes Max is only in love with the idea of her.
1988: Celia wins an Oscar. Evelyn watches the ceremony from New York and writes her a congratulatory letter. They speak on the phone and Evelyn tells Celia she is ready to give everything up to be with her. They agree to have dinner.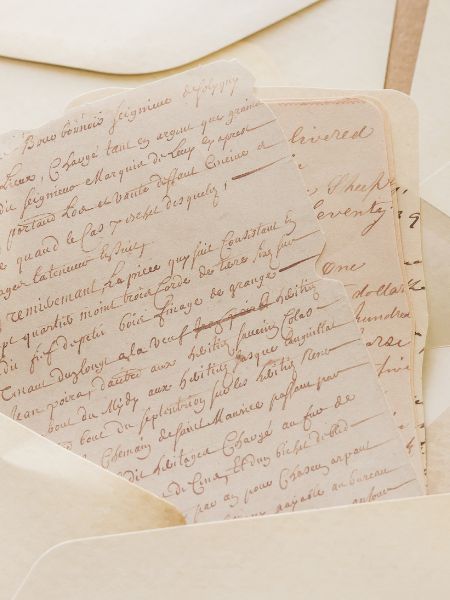 Max has read Evelyn and Celia's letters and calls her a gay slur. She tells him she loves Celia. He says she's a lesbian. No, Evelyn says, but she loves a lesbian.
Evelyn Finally Commits to Celia
Celia and Evelyn meet in Los Angeles. Evelyn tells Celia she's the only woman she ever loved. Evelyn says she's ready to give up her career so they can be together. But is it too late? Celia says she has a heart condition from smoking and might only have ten more years to love.
Instead, Celia tells Evelyn she needs to marry Celia's brother so that Celia can leave her estate to Evelyn. Celia wants her to bring Connor.
Harry doesn't agree with the plan. He wants to create a new arrangement like they had before, in which Celia marries a friend of his.
Evelyn is finished with filming and going to take the red-eye back to New York. She's picking up Harry on her way to the airport. She and her driver Nick find him in a wrecked car on the road leading to his house, gravely injured. He smells of bourbon and there is a young man in the car with him. Nick tells Evelyn that the other man must be dead.
Evelyn gets her driver, Nick, to help her take Harry out of the car, put the young man in the driver's seat, and get Harry to the hospital. It is the other man's car, so no one would know that Harry was in the car.
February 28, 1989: Harry dies. Nick asks Evelyn to make him famous in exchange for his silence.
After Harry's death, fourteen year-old Connor is acting out. Evelyn decides to move to Spain.
The 1990s
Husband #7 Robert Jamison (January 8, 1990)
1990: Evelyn marries Celia's brother. Celia's health is deteriorating and she and Evelyn have their own wedding ceremony.
The Seven Husbands of Evelyn Hugo: The Ending with Spoilers
The 2000s
2000: Celia dies.
In 2013 or 2014, Connor dies of breast cancer at age 39.
Evelyn tells Monique that the man who died in the car with Harry was James Grant. He was Monique's father.
Monique is furious. She'd thought her father had died after driving drunk. Evelyn gives Monique a letter that her father had written to Harry, telling him that he loves Harry but can't leave his wife and daughter.
Evelyn tells Monique that she also has breast cancer. She does the photo shoot that she agreed to for Monique's magazine. Evelyn sends Grace, her assistant on a trip. Monique is convinced that Evelyn is going to end her life. She cries as she leaves the apartment.
Monique picks up her mother, who is visiting, from the airport. She asks her mom about her marriage to James. Angela says their marriage wasn't passionate but that they were great friends. Monique doesn't reveal anything to her mother and is unsure whether she will include her father's name in Evelyn's book.
Angela and Monique sit down to watch one of Evelyn's old movies. Monique reflects that one day she probably will forgive Evelyn.
2017: The press announces that Evelyn died of a drug overdose. Monique publishes her book.
---
The Seven Husbands of Evelyn Hugo: Movie News
What we know: Netflix announced in March 2022 that writer/producer Liz Tigelaar (of Little Fires Everywhere) will be adapting The Seven Husbands of Evelyn Hugo as a Netflix series. Liz is also adapting Taylor Jenkins Reid's Malibu Rising for Hulu, so she's going to be busy!
As of summer of 2022, The Seven Husbands of Evelyn Hugo series has not started production yet.
This post will be updated with movie news and eventually, a section about how the movie is different from the book, so stay tuned!
---
The Seven Husbands of Evelyn Hugo: Spoilers Discussion
Do you see Evelyn as ruthless, doing anything it takes to get ahead? Or is she just practical, working within a Hollywood system run by men and laws that made same-sex relationships criminal at the time?
Are Evelyn's many marriages just spontaneous decisions? Are they calculated career moves? Or both, depending on the husband? Do you think each husband plays a unique role in her life and teaches her a different lesson?
Evelyn makes her own rules and believes she is faithful to Celia by her own definition. Do you agree? It was a VERY different time then in terms of acceptance of being gay and bisexual. Hollywood is also a very tough place for women. Celia made different choices and lived her life differently.
Do you think Evelyn grows at all as a character?
Does Evelyn want to make amends to Monique for smearing Monique's father to protect Harry and Connor, or is she just trying to get forgiveness at the end of her life?
Tell me your opinions in comments!
---
Hope you enjoyed The Seven Husbands of Evelyn Hugo: Spoilers and Movie News
Please check out my post on The Fictional World of Taylor Jenkins Reid, which features:
Possible Real Life Inspirations for Evelyn Hugo
Background Reading List for Old Hollywood
Timeline of all the Taylor Jenkins Reid Books: What was Daisy doing when Evelyn was famous?
Which Characters from Evelyn Hugo Make Crossover Appearances in Other Books!
---
Also, if you've read Daisy Jones and the Six, you can check out my Spoiler Post, which includes a plot summary and spoilers, plus movie news!
Spoiler Discussion Post for Malibu Rising
Spoiler Discussion for Carrie Soto is Back