Did you love The Silent Patient by Alex Michaelides? Check out my review of The Maidens, a Dark Academia mystery set in the same story world as The Silent Patient!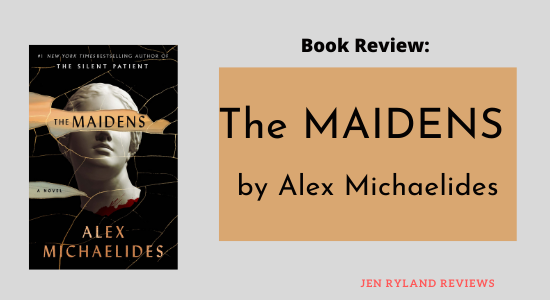 What's The Maidens About?
The Maidens by Alex Michaelides. To be published on June 15, 2021 by Celadon Books. Thanks to the publisher for providing an advance audio copy for review.
Synopsis: Edward Fosca is a murderer. Of this Mariana is certain. A handsome and charismatic Greek Tragedy professor at Cambridge University, Fosca is adored by staff and students alike—particularly by the members of a secret society of female students known as The Maidens. Mariana Andros is a brilliant but troubled group therapist who becomes fixated on The Maidens when one member, a friend of Mariana's niece Zoe, is found murdered in Cambridge. Mariana, who was once herself a student at the university, quickly suspects that behind the idyllic beauty of the spires and turrets, and beneath the ancient traditions, lies something sinister. Mariana's obsession with proving Fosca's guilt spirals out of control, threatening to destroy her credibility as well as her closest relationships. But Mariana is determined to stop this killer, even if it costs her everything—including her own life.
This post contains affiliate links.
Review of The Maidens
I liked the Silent Patient (you can read my review here) and although it seems an unpopular opinion, I liked The Maidens more!
High on atmosphere with a pace that's deliberate rather than breakneck, The Maidens did draw me in and keep me guessing.
As a mystery, The Maidens is pretty much a classic amateur detective story in its format, with main character Mariana going around interviewing witnesses and suspects in an attempt to figure out who is killing the Maidens (an elite literary salon of women handpicked by Fosca) one by one.
Mariana is an interesting character. Still struggling with grief over the death of her husband a year ago, Mariana becomes obsessed with the man she thinks is guilty of the murders: Edward Fosca, an American professor at Cambridge.
The Cambridge setting was atmospheric and fit the book's focus on Greek tragedy. I love Dark Academia books and The Maidens definitely fit my Dark Academia criteria – read more about that and my recommended YA and Adult Dark Academia books here! From the Cambridge setting to the secret society of the Maidens, to references from everything from mythology to art to Greek tragedy to literature, this book defititely had all the Dark Academia vibes.
If you're a fan of thrillers and like your books twisty, The Maidens could feel a little slow to you. There's a lot of Mariana's thoughts on her grief, and psychotherapy, and Tennyson and mythology. Let's just say that if this were adapted, I'd expect to see it on Masterpiece Theatre, not Netflix.
If you've read The Silent Patient, you'll love that The Maidens is a crossover book set in the same story world. I don't want to say more so you'll be surprised. I liked this aspect of the book, but I need to go back to The Silent Patient and investigate further.
Have you read this one, or The Silent Patient? Do you want to? Talk to me in comments and if you've read this, be sure to head over to my Spoiler Discussion for The Maidens and let's talk about that ending!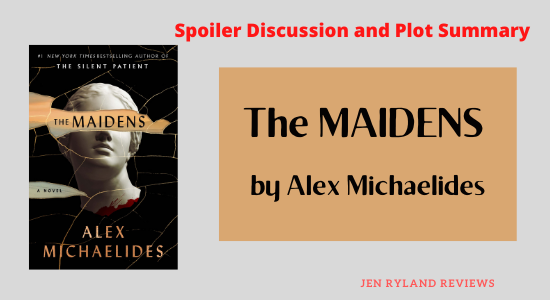 ---
Want to know about the possibility of The Maidens coming to TV? Check out my post on Movie and TV Adaptations of The Silent Patient and The Maidens.