Rebecca by Daphne DuMaurier is classic Gothic romantic suspense at its best! Whether you're a long time fan of Rebecca or you've just discovered the story (perhaps from the new Netflix Rebecca movie starring Lily James and Armie Hammer) maybe you are looking for more retellings of Rebecca. Check out my list: Read and Watch These Retellings of Daphne Du Maurier's Rebecca!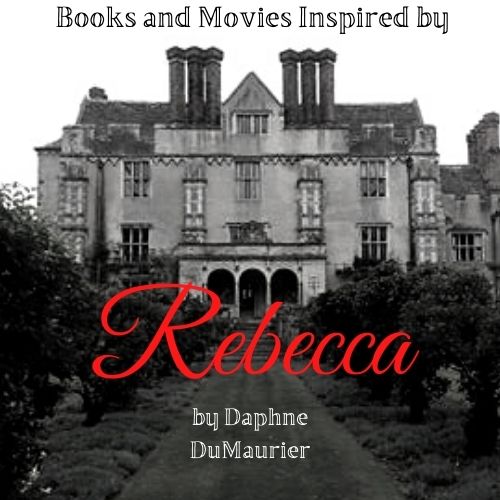 First, let's look at the source material. Rebecca was a Gothic novel written in 1938 by Daphne Du Maurier. It sold millions of copies, was adapted as movies, miniseries and plays, and inspired dozens of books.
This post contains affiliate links and I appreciate your support!
---
Read and Watch These Retellings of Daphne DuMaurier's Rebecca
Rebecca by Daphne Du Maurier – The OG book is a great read and I recommend it! It's a little bit Jane Eyre inspired.
Below: Details on the new movie. YA and adult books inspired by Rebecca. And Rebecca movie and miniseries adaptations. Get ready to read and Watch these retellings of Daphne Du Maurier's Rebecca!
---
Rebecca Fun Fact 1: You never find out the narrator's (and main character's!) name in the original Rebecca.
Rebecca Fun Fact 2: During WWII, the Germans planned to use the book to transmit coded messages. Ken Follett used the idea in his thriller The Key to Rebecca.
---
Read These YA Retellings of Daphne Du Maurier's Rebecca
I Killed Zoe Spanos by Kit Frick (2020) – When Anna arrives in the Hamptons for a summer nanny gig, she finds a community on edge after the disappearance of Zoe, a local girl.
Suspicion by Alexandra Monir (2014) – Imogen returns to her family's estate and comes face to face with her former love Sebastian.
The Dead and the Buried by Kim Harrington (2013) – A haunted house, a buried mystery, and a very angry ghost
Thorn Abbey by Nancy Olin (2013) – Becca was the perfect girlfriend: smart, gorgeous, and loved by everyone at New England's premier boarding school, Thorn Abbey. But Becca's dead. And her boyfriend, Max, can't get over his loss.
New Girl by Paige Harbison (2012) – The new girl at Manderly Academy hears a lot about a former student, the mysterious Becca.
Frost by Marianna Baer (2011) – Leena arrives at boarding school and becomes entangled in a weird triangle with Celeste and her brother David.
Read These Adult Retellings of Daphne DuMaurier's Rebecca
The Winters by Lisa Gabriele (2018) – After a whirlwind romance, a young woman returns to the opulent, secluded Long Island mansion of her new fiancé.
Alena by Rachel Pastan (2014) – A young art curator finds herself haunted by the legacy of her predecessor.
Rebecca's Tale by Sally Beauman (2009) – Twenty years after the death of Rebecca, her tale is just beginning.ñ
Mrs DeWinter by Susan Hill (2001) – The sequel to "Rebecca" returns to the world of Manderley and the haunting presence of Rebecca in the lives of Maxim de Winter and his young wife.
The Other Rebecca by Maureen Freely (2000) – Her future husband is the renowned writer and infamous widower, Max Midwinter, whose first wife is a haunting presence.
The Hacienda by Isabel Cañas is not an exact Rebecca retelling, but has so many Rebecca elements: a young bride arrives at the lavish home of her new husband. What happened to his first wife? Why is the cook burning incenses and making protective symbols in the doorway? Can a priest help?
Watch These Film and TV Adaptations of Daphne DuMaurier's Rebecca
Rebecca (1940) The Alfred Hitchcock classic starring Laurence Olivier and Joan Fontaine.
Masterpiece Theater's Rebecca (2017) Starring Charles Dance, Emilia Fox and Diana Rigg as Mrs. Danvers.
The BBC also adapted Rebecca in 1979 starring Jeremy Brett, Joanna David and Anna Massey.
The Netflix Rebecca movie, stars Armie Hammer, Lily James and Kristin Scott-Thomas.
---
Rebecca Fun Movie Facts:
The 1964 Bollywood Hindi film Kohraa, the 1969 Malayalam film Urangatha Sundary, the 2008 Hindi film Anamika, and the 2009 Pakistani drama series Noorpur Ki Rani were also based on or inspired by Rebecca.
---
How many of these Rebecca retellings have you read or watched? If you love Gothic fiction, check out my Gothic Fiction Quiz!