Do you love layered mysteries that involve a story within a story? Love thrillers with a "meta," aspect, an embedded narrative or stories that are self-referential and make you question what reality you're actually in? Check out my book list of Story Within a Story Mysteries and Thrillers.
What is a Story Within a Story Thriller?
An embedded or frame narrative is story in which another story is enclosed or embedded as a 'story within the story." As you read, another story layer is revealed, like peeling an onion or opening a Russian Doll.
A frame story is when a character in the story tells you a story, like in Titanic, when Rose tells you the story of her voyage.
Then there are embedded stories, like in Hamlet, which contains a play within a play. Each story is connected to the other, or one is a parody or commentary on the other.
If you want a deeper dive on this topic, check out this Tor.com article on frame stories that explains it much better than I could!
---
I received advance copies of The Plot, Run Time, and The Woman in the Library from the publishers for review.
As an Amazon Associate I may earn from qualifying purchases made through links on this site.
---
Story Within a Story Mysteries and Thrillers
Here's my list, and if you have more examples, I'd love to hear them. Drop them in the comments and I'll add them and credit you!
Verity by Colleen Hoover
A struggling writer (You'll see a pattern in this list of struggling creatives ending up inside a Russian Doll plot!) is hired to ghostwrite the unfinished series of a successful author. But is what's happening in this story what she thinks, or what we think? There's a lot to debate in this one so I hope you will drop by my Spoiler Discussion for Verity.
---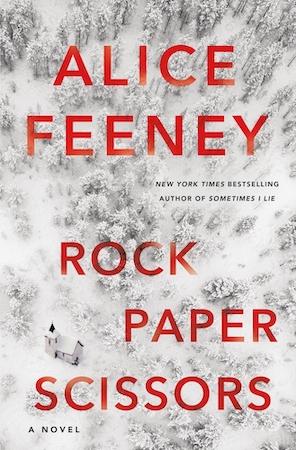 Rock Paper Scissors by Alice Feeney
This book is about a couple taking a weekend away. The book also references a book by one of the characters about a couple taking a weekend away. You don't get to read the story within a story, but the narrative does really make you wonder what is true and who is telling the truth. If you've read it, come join my Spoiler Discussion Post on Rock Paper Scissors!
---
The Plot by Jean Hanff Korelitz – check out my Spoiler Discussion Post for the Plot!
Even the cover of The Plot is a book within a book! The Plot is a story about a struggling author who steals another writer's plot with dangerous consequences! The book consists of the main narrative, and excerpts from the (fictional) author's book. It's a fun read – join my Spoiler Discussion linked above!
---
Run Time by Catherine Ryan Howard
Run Time is a story about a struggling young actress who is thrilled to be offered a job starring in a low budget horror film. But when she arrives on set, she finds that in the script of the movie, "Final Draft," life starts to imitate art. Or vice versa. Her character, Kate, is also reading a script that sounds a lot like what is happening to Kate. This is a brain-bender, but I enjoyed it!
---
The Nothing Man by Catherine Ryan Howard
This book was suggested to me by @montanabooklife on Instagram, and as I read it, I realized it was the perfect book for this list! The Nothing Man consists of two narratives: a true crime novel written by Eve Black, the sole survivor of a terrible attack on her family by the notorious "Nothing Man," and the narrative of the Nothing Man himself as he reads Eve's recently published book and decides he needs to stop her from telling her story.
---
Kill All Your Darlings by David Bell
This was suggested for my list by Sophia on Goodreads. The book's plot sounds somewhat similar to the plot of The Plot (could we get any more "meta"?) A professor publishes his first novel, a story based on a student of his who has gone missing. But she's not missing, and she shows up saying SHE wrote the book.
---
The Woman in the Library by Sulari Gentill
A group of random strangers thinks they've witnessed a murder at the Boston Public Library. But is that really what is happening? Layer on layer of revelations will either delight or confuse you!
---
Do you have any other story within a story mysteries and thrillers to add to my list? Tell me in comments!