I have enjoyed many of Ruth Ware's books, and The It Girl was one of my most anticipated summer reads. What did I think? Check out my Review of The It Girl by Ruth Ware
The It Girl by Ruth Ware
To be published on July 12, 2022 by Gallery/Scout Press. Thanks to the publisher for providing me an advance copy for review.
April Coutts-Cliveden was the first person Hannah Jones met at Oxford.
Vivacious, bright, occasionally vicious, and the ultimate It girl, she quickly pulled Hannah into her dazzling orbit. Together, they developed a group of devoted and inseparable friends—Will, Hugh, Ryan, and Emily—during their first term. By the end of the second, April was dead.
Now, a decade later, Hannah and Will are expecting their first child, and the man convicted of killing April, former Oxford porter John Neville, has died in prison.
Relieved to have finally put the past behind her, Hannah's world is rocked when a young journalist comes knocking and presents new evidence that Neville may have been innocent.
As Hannah reconnects with old friends and delves deeper into the mystery of April's death, she realizes that the friends she thought she knew all have something to hide…including a murder
---
What Else Has Ruth Ware Written?
She first wrote young adult books (I didn't know that!)
Her first adult thriller was In a Dark Dark Wood (2015).
Then she wrote The Woman in Cabin 10 (2016)
The Lying Game (2017)
The Death of Mrs. Westaway (2018)
The Turn of the Key (2019)
One by One (2020).
Which is her best book? Check out What's The Best Book by Ruth Ware?
Review of The It Girl by Ruth Ware
I put The It Girl on my Ten Thrillers I'm Dying to Read This Summer – check it out! Most of my picks are proving to be awesome!
I am a big Ruth Ware fan. She writes classic British mysteries in the vein of Agatha Christie. One by One was clearly inspired by And Then There Were None. The Turn of the Key was an interesting modern Gothic. And The It Girl also had some Christie trademarks: a long-ago murder and a diabolically clever solution.
Dark Academia: one of my favorite genres!
I'm a huge Dark Academia fan and when I saw that part of The It Girl takes place at Oxford, I was excited.
On the other hand, I was a bit nervous about the whole "normal girl/guy gets pulled into the orbit of a dazzling rich girl/guy" trope. This is a trope that worked for me in The Great Gatsby but often turns too Manic Pixie Dream girl for me.
BUT … I really loved The It Girl. Here's why:
First, the Dark Academia vibes were strong. The It Girl has a past/present format, in which main character Hannah reacts to a reporter contacting her (in the present day) about the death of her Oxford roommate, April, ten years ago. Chapters alternate between present-day Edinburgh, and the 2010s at Oxford.
Oxford is a fascinating place (to me) with an illustrious history and lots of quirky traditions, and I loved that aspect of the story. Hannah is a regular middle-class girl who is somewhat dazzled by it all. Same!
---
Second, and this may sound weird, but twenty-something Hannah was giving me all the Miss Marple vibes. I was listening to an Agatha Christie podcast (serious mystery nerd here) that had an interesting discussion of Miss Marple.
The hosts and the guest (who I think was Ruth Ware) discussed how Miss Marple's age made her a constantly underestimated character, and that her age also gave her physical limitations as a detective.
Hannah, the main character, is nearly six months pregnant in the book, and decides to re-investigate the murder of her roommate if only to prove to herself that her testimony in the case was accurate. Hannah has all kinds of pregnancy-related ailments that make her more vulnerable: high blood pressure, achy joints, heartburn.
Do you love a good "group of friends" book?
The It Girl is a Group of Friends Book. Or, more specifically, one of those "group of friends at school and one of them gets murdered" books, like The Secret History, In My Dreams I Hold a Knife, or quite a few other books .
My worries about the April-Hannah dynamic were unfounded. I couldn't help but like April. Yes, she lent Hannah expensive shoes and told her that her Boots lipstick was crap, but she was also really smart and constantly underestimated because she was blond and pretty.
---
It Girl's mystery was quite diabolical.
There were SO many suspects (if you want to discuss them all, come over to my Spoiler Review of The It Girl) and I kept going back and forth and around and around on who was to blame.
The ending was truly devious and surprising, Agatha Christie style. I think Agatha would have been impressed by this one. I did not come close to figuring it out!
---
So, if you love a Dark Academia vibe and a classic-style mystery without too much violence, I absolutely urge you to pick up The It Girl. It's a great mystery and a really fun summer read.
If you read and loved this one and want two books with a similar vibe, try:
The Maidens by Alex Michaelides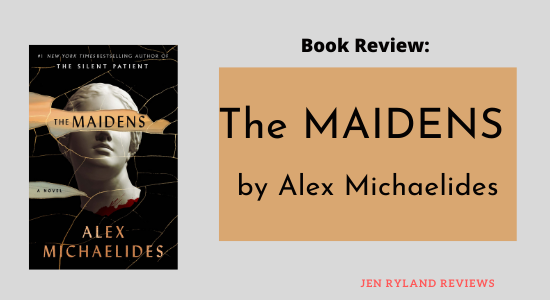 In My Dreams I Hold a Knife by Ashley Winstead
The Girls Are All So Nice Here by Laurie Flynn